Undergraduate Preview Night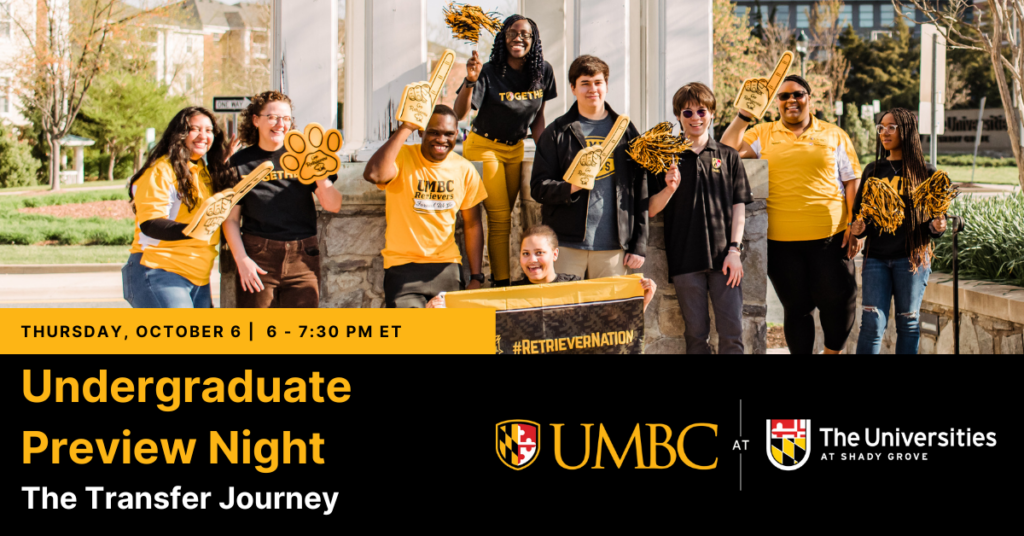 When: Thursday, October 6, 2022, 6 – 7:30 p.m.
Where: The Universities at Shady Grove;Building IV: Biomedical Sciences and Engineering Facility (BSE)
Courage, resolve, and strength of character embody the indomitable spirit of UMBC. That essence is felt here at UMBC-Shady Grove too—earning your bachelor's degree is a journey that will take perseverance and a community that is committed to your success. If you're ready to begin that journey and make some great connections along the way, you'll fit right in here at UMBC-Shady Grove.
Want a preview of the pathways that will be available to you as a UMBC student? Join us for Undergraduate Preview Night to hear from a panel of our Peer Advisors and current students about their personal transfer process, the challenges they have overcome along their educational path, and how their journeys led to UMBC-Shady Grove.
Ready to start your own Retriever journey? You'll also have the opportunity to ask questions about transfer requirements, application deadlines, scholarships, and financial aid opportunities.
Please note: UMBC-Shady Grove's fall 2022 Preview Night event is being hosted in person. Please RSVP for more information.
UMBC-Shady Grove is committed to inclusivity and accessibility. If you are in need of any accommodations or other assistance, please contact us at shadygrove@umbc.edu as soon as possible and provide the name and date of the event(s) you are planning to attend.