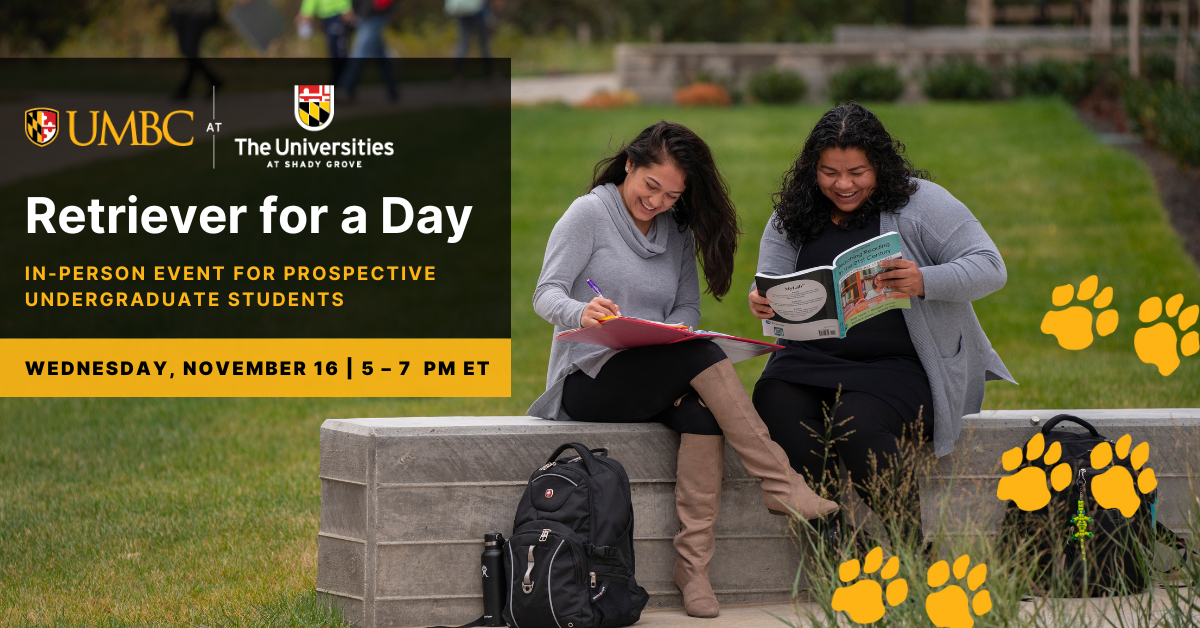 When: Wednesday, November 16, 2022, 5 – 7 p.m.
Where: The Universities at Shady Grove
Welcome to Retriever for a Day! An event where you get to follow in the paw prints of a Retriever and find out what it's really like to be an undergraduate student at UMBC-Shady Grove!
This flexible event will allow you to come when you can and leave when you must. Customize your visit by attending the sessions that resonate with you, checking out our resource fair, or taking a tour of USG.
Guests are welcome!
REGISTER FOR RETRIEVER FOR A DAY
Please note: UMBC-Shady Grove's fall 2022 Retriever for a Day event is being hosted in person. Please RSVP for more information.
UMBC-Shady Grove is committed to inclusivity and accessibility. If you are in need of any accommodations or other assistance, please contact us at shadygrove@umbc.edu as soon as possible and provide the name and date of the event(s) you are planning to attend.
During Retriever for a Day...
You will get the opportunity to discover life as a UMBC-Shady Grove student. Come when you can and leave when you must—throughout the event, you will have the opportunity to: 
Participate in an abbreviated lecture with a faculty member from your intended major

Review prerequisite recommendations and coursework within your major

Gain information about the application process and funding your education

Hear more about UMBC-Shady Grove student resources

Go on a USG campus tour
Unable to attend? View our full Calendar of Events for more opportunities to connect with us and learn about our programs!