UMBC-Shady Grove Pre-Transfer Advising
Are you interested in one of UMBC-Shady Grove's seven undergraduate programs (Computer Science, History, Mechanical Engineering, Political Science, Psychology, Social Work, or Translational Life Science Technology)? Make an appointment with a UMBC-Shady Grove pre-transfer advisor to determine the transferability of previous coursework and develop an academic plan of action for transfer! Please note, all pre-transfer appointments scheduled will be hosted virtually or by phone. Additional logistical details will be included in your appointment confirmation. In your confirmation email, we will request unofficial transcripts be sent prior to your appointment. This will give us time to review your coursework history and have your personalized transfer plan ready for review.
Why Schedule an Appointment?
At UMBC-Shady Grove, we offer the upper-level coursework in our undergraduate programs. To be eligible to enroll in these courses, certain prerequisite courses must be completed prior to transfer. In addition to prerequisite courses, there are also additional recommended courses that we strongly encourage students to complete that will assist in completion of general education requirements. Navigating these prerequisite and recommended courses will help ensure a seamless transfer!
There are great resources you can use to plan your transfer, such as ARTSYS and Transfer Central, but you don't need to plan on your own. That is why we (your pre-transfer advisors) are here! We will meet you where you are and will empower you to choose a path that works best for you. Let us help you achieve your educational goals by signing up for an appointment today!
Appointment Registration Links
Appointments for students interested in History, Political Science, Psychology, Social Work, or Translational Life Science Technology (TLST)
Appointments for students interested in Computer Science or Mechanical Engineering
Please view COEIT's Shady Grove pre-transfer advising page and complete the advising form. Once you have completed the form, a pre-transfer advising packet will be created for you which will include a link to make a one-on-one appointment with a COEIT pre-transfer advisor.
Appointments at Montgomery College and Frederick Community College
We are not currently offering on-site pre-transfer advising appointments at MC or FCC. When on-site visits resume, we will add those dates and the appropriate links here.
What to expect during your appointment: Empowering YOU along your transfer pathway!
Comprehensive review of UMBC at the Universities at Shady Grove and how we connect with the larger UMBC community
Review of your coursework history and discussion regarding additional prerequisite and recommended courses that will guide you on your transfer pathway
Discussion about transfer policies and expectations, such as the number of transferrable credits and remaining coursework applicable to degree completion
Program-specific highlights
Introduction to financial aid and scholarship opportunities
Review of the application process
Pre-Transfer Advising FAQs
Do I need to complete the required courses to be able to start taking courses at UMBC-Shady Grove?
Yes, there are certain prerequisite courses that will be required in order to enroll in the upper level classes of your designated program. These courses will be reviewed during your pre-transfer advising appointment, but you can also find them listed on your undergraduate program-specific webpage.
Do I need to complete my associate's degree to apply to transfer to UMBC-Shady Grove?
No, an associate degree is not required for transfer, but we highly recommend students earn their associate degree as it does carry a number of benefits (which can be discussed during your pre-transfer advising appointment). Please see your community college advisor to discuss the associate degree requirements.
What is the difference between UMBC's campus in Catonsville, MD and UMBC-Shady Grove in Rockville, MD?
In addition to the difference in location, a distinguishable aspect of UMBC at the Universities at Shady Grove is that we 100% support transfer students. This means we only offer the upper-level coursework specific to each of our undergraduate programs. Students are expected to complete the vast majority of their lower-level credits (45-60) prior to transfer. It is important to note that you are earning the same UMBC degree whether you are attending UMBC in Catonsville or at our Shady Grove location.
How will my previous courses transfer?
How can I find out more about next steps if I plan to transfer to UMBC-Shady Grove?
Are there pre-transfer programs available at UMBC-Shady Grove to support me with my transfer process?
Yes! There are Transfer Access Programs that provide students with support and transfer resources that students have access to prior to transfer. Click on the buttons below to learn more about these programs.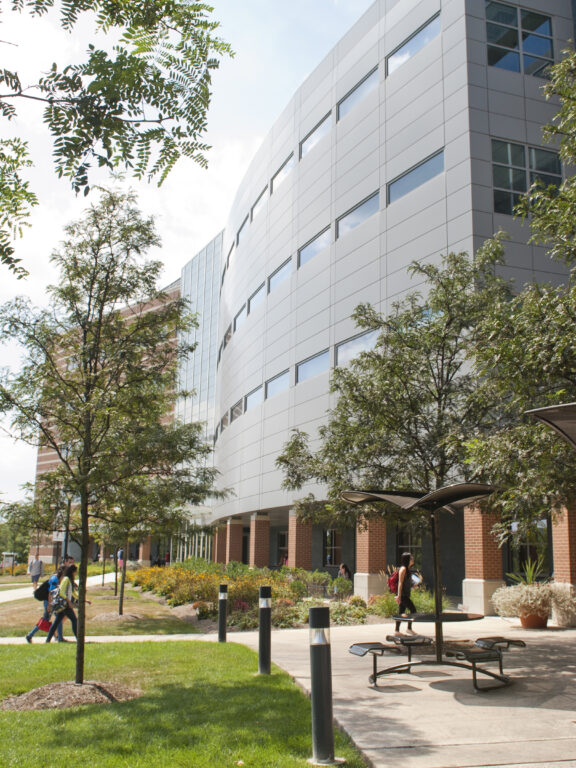 Want to learn more about UMBC-Shady Grove? Check out our Undergraduate LookBook!